Free Nationwide Shipping

866-944-8454 or Text 951-662-3472
Commercial Grade Palm Thatch
Largest Selection Anywhere

866-944-8454 or Text 951-662-3472
Very Fast Shipping

Your Tiki Bar Hut Building Specialist
Available With Fire Retardant or Sealer

866-944-8454 or Text 951-662-3472
Commerial or Residental

866-944-8454 or Text 951-662-3472
Free Nationwide Shipping
866-944-8454 or Text 951-662-3472
Commercial Grade Palm Thatch
Largest Selection Anywhere
866-944-8454 or Text 951-662-3472
Very Fast Shipping
Your Tiki Bar Hut Building Specialist
Available With Fire Retardant or Sealer
866-944-8454 or Text 951-662-3472
Commerial or Residental
866-944-8454 or Text 951-662-3472
Palapa Umbrella Thatch Company Online
Specializing in Real Palm Thatch, Artificial Synthetic Thatch Roofing Materials. We Also have Tiki Bar Huts & Palapa Structures

Most Items Ship Same Business Day
If you are looking for the highest quality Palapas and thatch, then you have come to the right place. Read on to find out more about our services.
Welcome to the home of authentic palapa and thatch to help you create your own personal paradise.
When island-style décor is your objective, you can count on our palapa umbrellas, tiki thatch rolls, and other products to transform your space. Extremely popular in tropical climates, our premium products can easily transport you to an island paradise. This is why our palapa and thatch products are the top choice and are frequently used in beach resorts, open-air restaurants, pools, tiki huts, and retreats, and also in residential homes.
We offer premium quality products by following the highest industry standards to ensure that you get the best quality palapas and thatch rolls. We welcome you to browse through our large selection of palapa umbrellas and tiki thatch rolls to create your own tropical oasis at your residential or commercial space.
Create a Relaxing Tropical Retreat
If you enjoy relaxing in the tropics and want to create that same island feeling in your living space, then all you need is our premium palapa products. Our products are hand-picked and checked for their durability. The palapa DIY kits and DIY Tiki Hut Bar Thatch Roofs, along with the other products that we offer have been designed using 100% authentic materials and have been built to withstand the elements.
The products are not only great to look at because of their design, but are also highly functional, and can provide shade and easily enhance the casual ambiance of your living space. Regardless of the style that you are trying to achieve, you can easily use our products to spruce up your home or business.
High-Quality Palapas and Tiki Thatch Products
If you're looking for the best palapa umbrellas and other thatch products, then you have come to the right place. We deal in a variety of commercial and residential tiki huts and umbrellas, along with many other palapa products available at wholesale rates.
While you're shopping for a palapa umbrella, take a look at our patio sets; there are even patio set covers to protect your table and chairs from the weather. No matter what palapa or thatch accents you're seeking for the interior or exterior of the home, you will find them all here.
Why You Need Our Services?
We're on a mission to help you built authentic palapa and thatch structures, whether it's at home or at your commercial space. The following are just some of the reasons why you need our services when it comes to getting the best quality palapa umbrellas, DIY thatch kits, tops, and covers at extremely affordable prices.
Natural-Looking Shelter
Only we can help you re-create that relaxed and laid-back space with our natural palapa umbrellas and thatch roofing. We offer beautiful eco-friendly palapa umbrellas that are the perfect choice for you if you're looking to create a focal point in your living space. Our products can easily add some luxe and style to your restaurant or pool area.
Environmentally Friendly Materials
Thanks to our palapa umbrellas, you can now take a permanent vacation every time you step into your garden or pool area. What sets us apart from the rest is that we offer 100% authentic, eco-friendly, and recyclable palapa umbrellas, tops, covers, and palapa DIY kits and DIY tiki hut bar thatch roofs.
Free & Fast Shipping
We provide free and fast shipping to our clients so that you don't have to wait too long to create your very own tropical paradise. Through the years, we've come to be known as the go-to choice for high-quality palapa umbrellas and tiki thatch rolls used in a residential or commercial setting.
Affordable Prices
There's no need to break the bank while creating a tropical paradise feel in your living space. We offer quality products at affordable prices. With our products, you can easily re-create that tropical island retreat in your own backyard, patio, or pool area.
Available in Multiple Sizes
There's no need to clip, cut, or trim the palapa umbrellas or tiki thatch rolls that you get from us. We do it all for you to make sure that you get the perfect size for your needs. We also offer products that are available in multiple sizes.
High-Quality Products
We hand-pick our materials following the highest quality standards before they are handwoven into the beautiful palapa umbrellas and tiki thatch that our clients have come to know and love through the years.
Unmatched Customer Service
Our beautiful palapa umbrellas and Tiki Thatch rolls can completely transform your garden, backyard, patio, or pool area come rain or shine. Whether you're interested in buying or just browsing through the options, we have a team of professional and friendly customer service representatives who are always ready to answer your questions.
Contact Us Today
To find out more about our beautiful collection of Palapa umbrellas and Tiki Thatch roofing, or any of our other products, please feel free to contact us today at 866-944-8454 or Text at 951-662-3472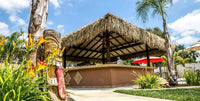 Here at Palapa Umbrella Thatch Company It is our goal to supply you durable, high-quality tiki hut building supplies online that will make a long lasting impression on our customers while providing them with an eco-friendly alternative to conventional materials. As the nation's #1 dealer of Mexican Palm Thatch and Palapa Umbrellas, we only purchases with suppliers who have ethical business practices. So you know when purchasing from our company that rest assure that you will always get high quality Tiki Bar and Tiki Hut products.
Largest Selection with the lowest prices anywhere
Free Fast Nationwide Shipping
During your shopping experience, don't hesitate to get in touch with our experienced customer support team. We will help with so much more than product information. Our specialists give expert advice on project measurements and material suitability. Call us at 866-944-8454 Monday through Friday between 6:00 a.m. and 8 p.m. PST. for any help or a custom quote.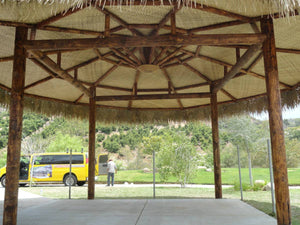 We will beat any advertised price
Text Us Anytime
If you have a structure or a project that you would like our professional advise on such as design, installations, commercial applications, Ect. Please feel free to text photos to 951-662-3472
About our brand
We offer premium quality products by following the highest industry standards to ensure that you get the highest quality possible with our palapa umbrellas and other products.
Testimonials
I have been using Palapa Umbrella Thatch Company for many years. Product is always of highest quality. Would definitely recommend to others.

James M.
Bought from other companies they did not have the quality that this company have, Love it. 5 Stars

Sara
Best customer service, took the time to help me build my wife's the dream tiki hut that I had promised for our anniversary, Thanks Mike

Jose R
I love this company, I always get quality materials and very fast shipping

Sally
Awesome experience with customer service, they really know their stuff. My friend even bought palm grass from them. Mike explains in very simple terms how to install the thatch rolls

Rich M.
I don't buy from any other company than these guys. My materials are always long lasting

Tiki Rob
I build tiki huts and bars for a living and have use Palapa Umbrella Thatch Company for years. Top Notch products with lighting fast free shipping.

The Palapa Man
Customer service was excellent like always, Thanks Mike.

Manuel Ruiz
I had a project with a deadline and waited last minute to order. Mike was able to push my order through just in time to make my customer happy. You guys are GREAT!!!

Trevon J.
Location
Our store
280 S Arrowhead Ave
San Bernardino, Ca 92408
Call or Text
Mon - Fri, 9am - 5pm
Open for calls
Saturday, 9am - 5pm
Sunday, 9am - 5pm